Upcoming AADOM LIVEcast: Building Patient Financing into Your Marketing Strategy
59% of patients have forgone dental care due to cost fears. And, for those who do visit the dentist, payment considerations are top of mind before ever stepping foot in the office.
When it comes to helping patients commit to their dental care, providing financing options can be a powerful tool to help patients plan and budget for the treatment they need.
However, patients need to know financing options exist before sitting in the chair. That means making financing visible throughout your patient journey—as you attract patients using your website, manage patient communication via email and text messages, and once they arrive at your office. When you generate awareness about your financing options, patients experience less financial stress, and you'll see higher case acceptance, fewer cancellations and no-shows, and ultimately more production.
Course Learning Objectives:
How to integrate financing into each stage of the patient journey
What channels to leverage to maximize marketing success
What successful financing marketing looks like with real-life examples
How to modernize patient financing to enhance the patient experience
Please note, this session is being simulcast on the AADOM Facebook Page , the AADOM LinkedIn Page , and the AADOM YouTube Channel to view on 6/13/23 at 1:00pm eastern
Learn about the presenter: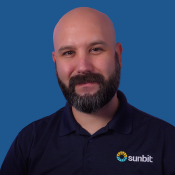 Adrian Valente is the Director of Training at Sunbit, the fast-growing patient financing technology company, and supports training, enablement, and community engagement. His training methodologies have been used by more than 115,000 dental, auto, and optical professionals on how and when to offer financing to customers. As the resident subject matter expert for all things Sunbit, you'll find him hosting podcasts, events, interviews, and coaching sessions across the verticals they serve.