Upcoming AADOM QUICKcast: Essential Questions to Ask When Selecting a Patient Financing Partner
Most offices offer at least one patient financing solution today and the demand for financing continues to increase. In fact, a recent survey of dental professionals found that 69% say inflation has encouraged more patients to seek financing options for dental care. This makes sense when paired with the recent finding that even people making six-figure incomes are living paycheck to paycheck.
Offering financing is an amenity dental practices can't overlook no matter the market they're serving. When it comes to choosing a financing partner, dental practices have options ranging from medical credit cards to personal loans, in addition to offering in-house payment plans.
However, not all financing is created equal. Each comes with its own set of risks and considerations. It's critical to evaluate solutions thoroughly to ensure you are making the right decision for your office and to protect the best interests of your patients.
Course Learning Objectives:
Considerations when evaluating patient financing solutions
Essential questions to ask of any financing provider
How a successful partnership can be a recipe for less burnout, more production, and happier patients
Please note, this session is being simulcast on the AADOM Facebook Page, the AADOM LinkedIn Page, and the AADOM YouTube Channel to view on 10/12/23 at 3:30 pm Eastern
Sponsored by: Sunbit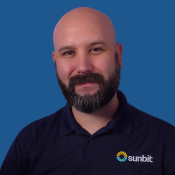 Adrian Valente is the Director of Training at Sunbit, the fast-growing patient financing technology company, and supports training, enablement, and community engagement. He has trained over 130,000 dental, auto, and optical professionals on how and when to offer financing to customers. As the resident subject matter expert for all things Sunbit, you'll find him hosting podcasts, events, interviews, and coaching sessions across the verticals they serve.